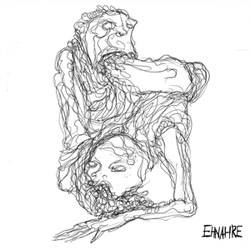 Ryan McGuire - Bass, Double Bass, Vocals, Percussion (Kayo Dot)
John Carchia - Guitar, Vocals (Kayo Dot)
Ricardo Donoso - Drums
Other contributors :
Jonah Jenkins - Vocals (Only Living Witness, Raw Radar War, Milligram, Miltown)
Forbes Graham - Trumpet (Kayo Dot, XthoughtstreamsX)
Greg Kelley - Trumpet (Nmperign, Heathen Shame)
Greg Massi - Guitar (Baliset, Maudlin of the Well/Kayo Dot)
Noell Dorsey - Vocals
C. Spencer Yeh - Violin
Hey, it's written "others", no ? Ehnahre is other. Ok, metal, brutal, but other.
Here